Oddie Quarter Turn Fastener Lock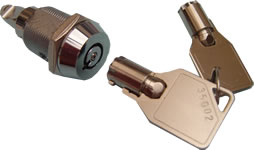 A seven pin radial tumbler lock with an Oddie Fastener 1000 Series Stud end enabling the lock to be slammed shut without the need to use a key - click here for further details on the oddie 1000 series.
The key only withdraws in the locked position.
Can be used with any 1000 series receptacle clips - click here to see receptacle clips.
For clip-in-clip fixing size - click here
The Grip Length of the lock is a standard size of 28mm (this is the distance between under the head of the lock to underside of the material that the clip is fixed to)
Part Number : 393710 - Locks Keyed Alike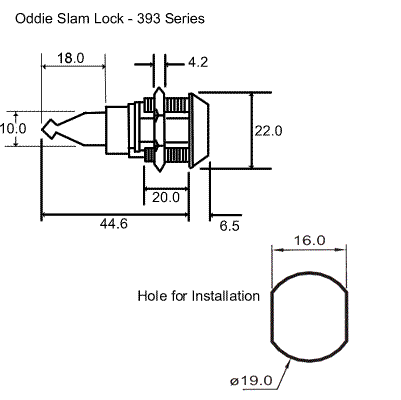 393 Series Oddie Locks
Security Collars

The 394 Security Collars fit all 19mm standard housings with two flats and feature:
Reduced lock projection on the inside of the equipment
Extra protection for the exposed shoulder of the lock from tampering
Made from hardened steel with a bright chrome finish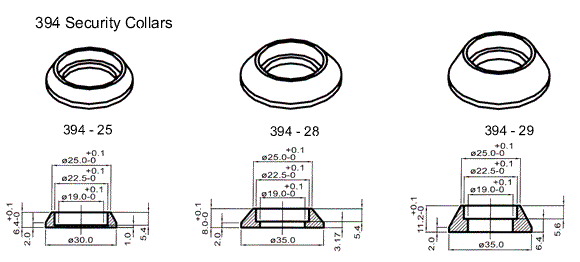 394 Series Security Collars
| | | | | | |
| --- | --- | --- | --- | --- | --- |
| Part No: | Descriptions | Out Dia. | In. Dia. | Projection | H.Overall H |
| 394-21 | Spur Washer | 28.575 | 19.05 2flat | 1.19 | 1.19 |
| 394-22 | Flat Washer | 26.9875 | 19.05 2flat | 1.19 | 1.19 |
| 394-24 | Tension Washer | 22.225 | 19.05 | .39 | 3.175 |
| 394-25 | Security Washer | 30.1625 | 19.05 | 1.5875 | 6.35 |
| 394-28 | Security Washer | 34.925 | 19.05 | 1.5875 | 7.9375 |
| 394-29 | Security Washer | 34.925 | 19.05 | 4.7625 | 11.1125 |